Ways to Worship
The Chosen: Season One
Join Pastor Becky every Thursday evening starting Sept. 29, 7 - 8 p.m., via Zoom to discuss The Chosen. 
Zoom meeting link (Discussions take place from 7 p.m. to 8 p.m. on: Sept. 29; Oct. 6, 13, 20 & 27; Nov. 3, 10 & 17):
https://us06web.zoom.us/j/89016009941?pwd=L3R2TERjeGxKS2xEL2JPbHhwaStGQT09
~ ~ ~ ~ ~ ~ ~ ~ ~ ~ ~ ~ ~ ~ ~ ~ ~ ~ ~ ~ ~ ~ ~ ~ ~ ~ ~ ~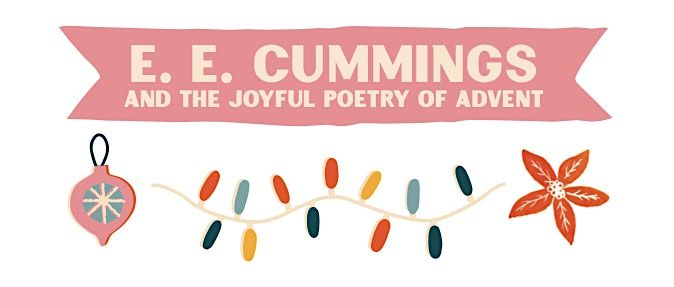 Advent Study on e.e. cummings poetry
5:45-6:30 in the Sanctuary Nov 30th, Dec 7, 14, and 21st​​​​​​​
No preparation needed - just come and enjoy some time of fellowship and conversation before desserts and worship.
The Christian year begins not with the trumpets of Easter, the rumbling winds of Pentecost, or the carols of Christmas morning. It begins with silence, with the shadows of despair, conflict, sorrow, and hate – for it's there that the God of hope, peace, joy, and love will arrive.
The word "Advent" means arrival. It's the four-week season of waiting and preparing for Jesus to be born, watching, and listening for God coming into the world, even now. For God is love, and love, as E. E. Cummings put it, "is the voice under all silences."
Poetry can help tune our ears and eyes so we can listen, and watch, and wait. Poems can push us to think new thoughts and feel new feelings, to hear new songs we might otherwise miss. In this Advent devotional, we let scripture and Cummings' poetry be our guides, together pointing us toward weekly practices that can help deepen and enrich our sense of the season – a perfect way to prepare for the rejoicing of Christmas day. So, grab your favorite Bible and Cummings' Complete Poems (the poems in this devotional can be found online and we will have copies). Week by week, we'll make our way to Bethlehem, listening to the songs and the silences as we go.  Simple candlelight services and weekly practices will help us read, reflect, and prepare – all for the sake of deepening the joys of the season.
2022 Weekly Reflections
2021 WWW Materials
December 4th & 5th  (Second Sunday of Advent)
November 27th & 28th  (First Sunday of Advent)