Ministries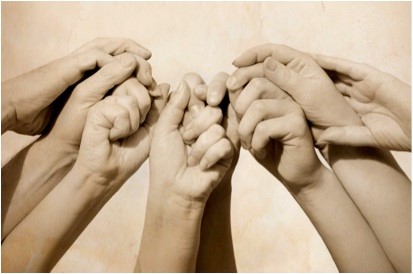 Recent Health Concerns:
Brooks Durivage, Bryan Witt, Walter Dean, Linda Dunn, Joyce Laubacher, Sarah Harvey, Herbert Grant, Don Kreager, Dale Jess, Loren Welch, Connie Maike, Luane Tipton, Kathy Spangler, Heather Witten, Philip Jones, Brad Weis, Jeannie Tabbert, John Rust, Diane Quick, Lyle Peters, Mary Benner, Bill Coyle, Steven Abbott.
Individuals who are chronically ill, in rehabilitation, or experiencing some special need:
Helen Anson, Sis Apling, Dave Baldwin, Charlotte Beier, Heather Dewitz, Julie Dunn, Phil Fehr, Willie Foss, Gary Harder, Carl Hepner, Nate Holcomb, Dennis Jackson, Fred Kohlman, Beckham Luecke, Elijah Magoto, Patricia Medlin, Becky Minick, Joyce Nixon, Reed Oestreich, Fredrick Peters, Janet Price, Gaillard Risch, Bill Ryf, Jillie Snyder, Carolyn Watson, Anna Weichman, Doris Wendt, Marge Zak.
Thursdays from 9-11am in January, February, March, mid-September, October & mid-November in the 2nd floor Social Room. All are welcome to join and/or take fabric kits home to sew (located by the handicap ramp).
Coffee Hour

Medical Equipment Closet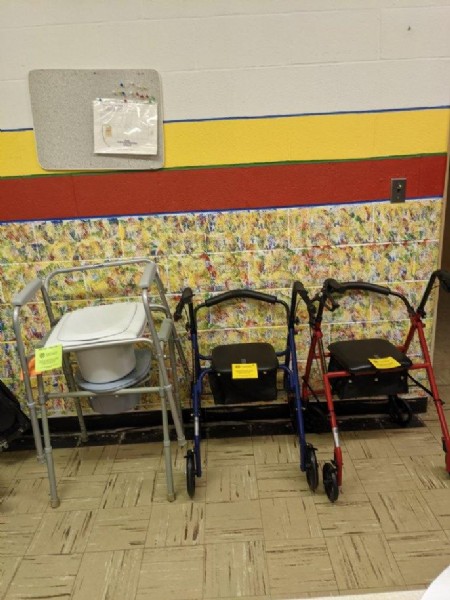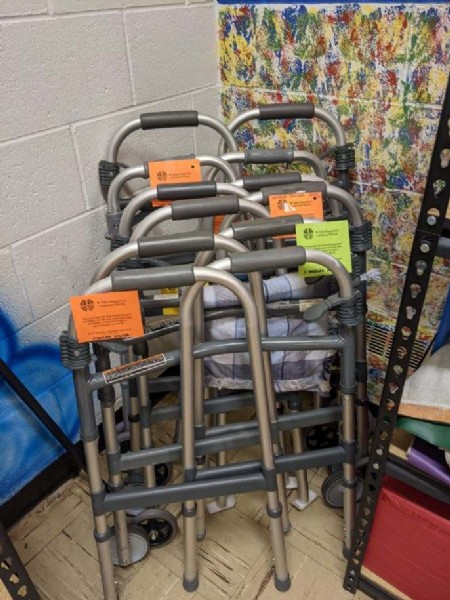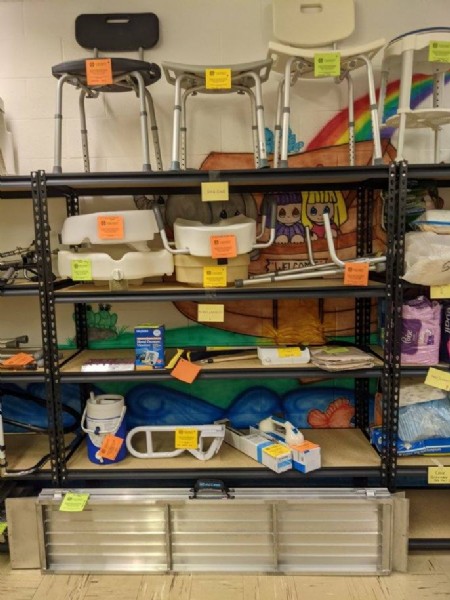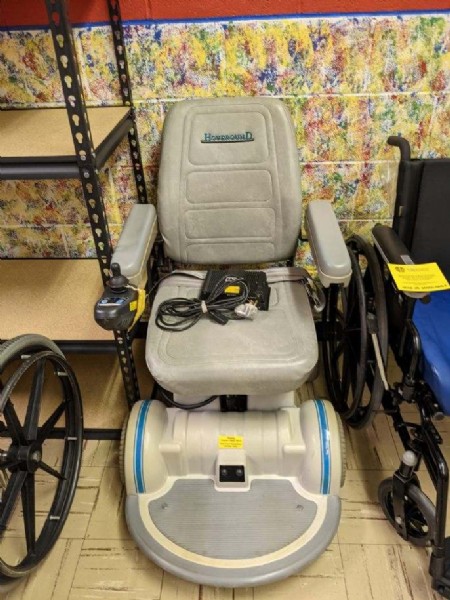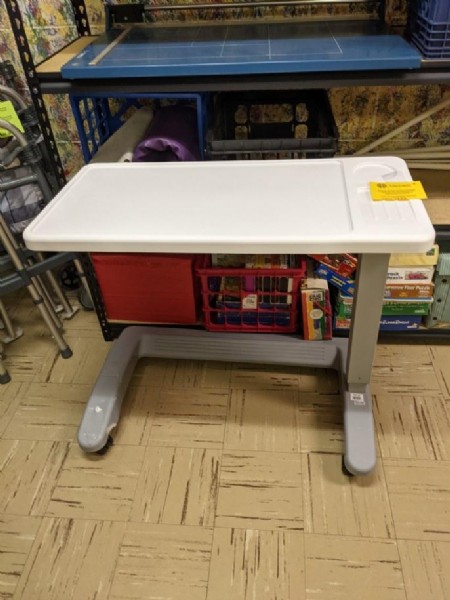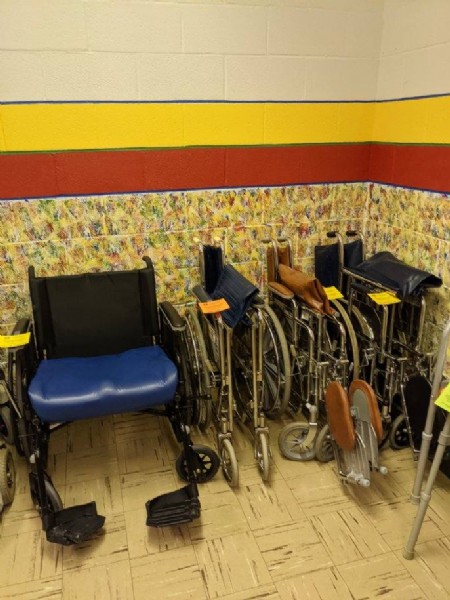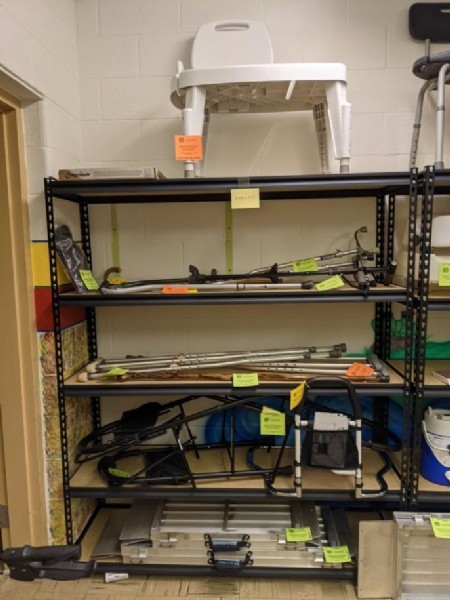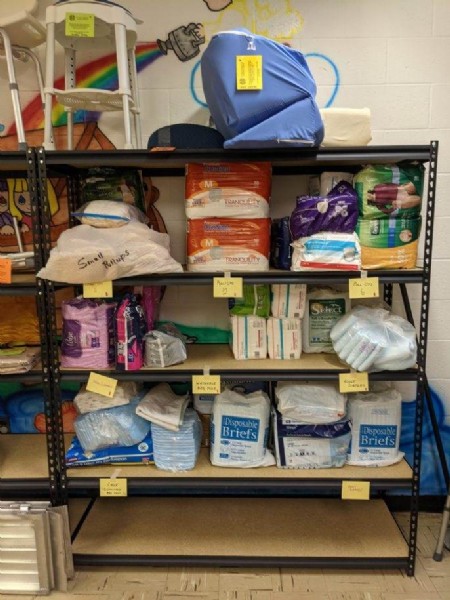 Sometimes life takes an unexpected turn and we find ourselves in need of a piece of medical equipment. We may know ahead of time that the need will only be temporary or it may be a surprise need with an indefinite end. Medicare and commercial insurance do not always cover the costs and out-of-pocket expenses may be difficult to handle.
St. John's Medical Equipment Closet was started in 2020 to help match and supply donated medical equipment to those with a need for it. This ministry collects equipment donations, cleans and checks them, and makes them available to anyone in the community. Equipment is available at no cost and is not a loan. We do ask that when the receiver no longer needs the equipment, it be passed along to bless someone else.
Examples of available equipment include: wheelchairs, walkers, canes, crutches, bedside commodes, shower seats, elevated toilet seats, bed rails, medication organizers and disposable hygiene items (pull-ups, bedpads, gloves, unopened wipes).
If you, or someone you know, have a need for medical equipment, please call St. John's church office at (419) 898-6474. We are open Monday through Thursday from 8:30-4:00 and Friday 8:30-12:00. If you have used equipment in good condition and would like to donate it, please bring it to the church at 122 W. Ottawa St. in Oak Harbor. If you have a large or unusual item to donate, please call to be sure we are able to accept it.
Please note: We cannot accept medical equipment that has been customized such as C-PAP machines, bone stimulators, walking casts or knee/wrist immobilizers, medications and ointments.
Helping with the Community Garden

Watering Flowers/Landscaping

Via de Cristo

Scholarships Available
Lutheran Higher Education Scholarship ââ'¬" for any member of the congregation attending a Lutheran school. Request forms are in the office
Doris Mylander Scholarship ââ'¬" for member of St. Johnââ'¬â"¢s or BCS school district majoring in music, in their Sophomore or Junior year.
Cynthia Holder Rich: April 2021 May 2021 July 2021 September 2021
Previous updates: July 2020 October 2020 Advent 2020 video December 2020 February 2021
Revs Rachel Eskesen & Zach Courter: June 2020 Summer 2021
Military Personnel

(Please contact the church office if you would like to add anyone to this list.)
Art Ceraldi, son of Doug & Joy Ceraldi, Navy, stationed in Bremerton, WA
Steve Cox, husband of Holly (Garza) Cox, Air Force, stationed in Abilene, TX
Steven Johnson, nephew of Cheryl & Jim Sandrock, Army, stationed at Ft. Campbell, KY
Tyler Krieger, grandson of Ron & Margie Krieger, Air Force, stationed at Offutt AFB, NE
Brian Lange, nephew of Glenna Hetrick, Air Force, deployed to Japan
William Loosier, nephew of Marge Zak, Alabama National Guard
Jacob Mattimoe, son of Chuck & Laura Mattimoe, Army National Guard
Mason McDougall, grandson of Rod & Gerry Wolf, Army, stationed in Florida
Clark Rutledge, son of Kevin & Michelle Rutledge, Air Force, stationed in South Carolina
Kyle Rutledge, son of Kevin & Michelle Rutledge, Air National Guard, with Red Horse in Mansfield, OH
Douglas Seeger, grandson of Elaine Young, Air Force, stationed in Virginia
Thomas Schnitker, grandson of Rose Mary Weirich, Air National Guard
Caleb Turco, grandson of Connie Fabian, Army, stationed at Fort Rucker, AL
Tessa Tyburski, daughter of Mary Green, Air Force, stationed at Ft Walton Beach, FL
Dominick Vidal, son of Joe & Pamela Vidal, Marines, stationed at Camp Lejeune, NC
Konner Witt, son of David & Lu Ann Witt, Air Force, stationed in Hawaii
Niki (Reau) & Ricky Zellner, niece & her husband of Randy Kohlman, Navy, stationed in San Diego